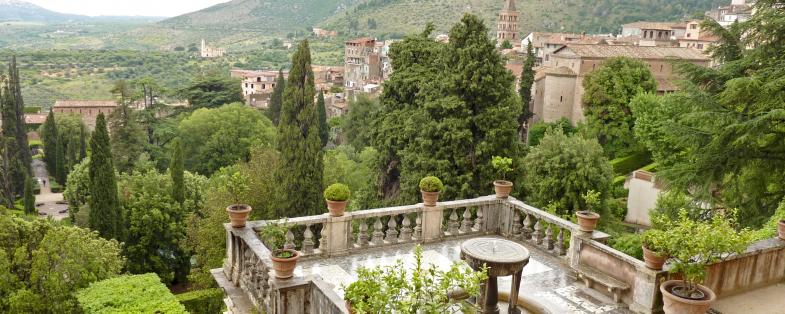 Tivoli has a history that is more than ancient! The first bricks were laid as early as 1215 BC or perhaps earlier. Enter a street and you find yourself admiring the spectacular Villa d'Este, turn a corner and here is the Sanctuary of Hercules Victor. In the midst of so much history, art and culture the risk is getting lost. So I have prepared two itineraries on foot so as not to miss the charm of a magical city.
VILLAS ROUTE
Among the many points of interest, there are three villas in Tivoli, and what villas: Villa Gregoriana, Villa d'Este and Villa Adriana (the last two are on the UNESCO list). It starts from the latter, the largest villa that belonged to a Roman emperor. Villa Adriana is one of the best preserved archaeological sites in Italy, testimony to the charm and grandeur of the ancient Roman Empire. Still enchanted by its beauty, we continue the route along via Tiburtina, as far as Villa d'Este. Symbol of the Italian Renaissance, it is an architectural and scenographic jewel thanks to its famous fountains. Leaving the centre and passing the Gregorian Bridge, you reach the Villa Gregoriana where nature blends with its structure. The famous waterfall formed by the deviation of the Aniene river is not to be missed.
WALK IN THE HEART OF TIVOLI
The historic centre of Tivoli is a spectacle for the eyes. It starts from the ancient Rocca Pia, now closed to the public, and continues towards the Roman amphitheatre. A little further on you pass through Piazza Garibaldi, with the arched sculpture of Arnaldo Pomodoro in the centre, until you reach the Church of Santa Maria Maggiore. Continuing on Via della Missione and Via della Sibilla we find ourselves in front of the Temples of Vesta and Sibilla, surrounded by a natural green landscape. Turning back a little, take Via San Valerio up to Piazza del Duomo where you should not miss the visit to the Cathedral of San Lorenzo. Continuing along the way you can see the Gothic House and the Church of San Silvestro, before arriving at the majestic Sanctuary of Hercules Victor, which offers a splendid view of the city.
For those not fond of walking, but wanting to learn more about the history of Tivoli, you can drive through the "water route", a fundamental element of this area. The journey begins at the Terme Albule at Tivoli Terme and ends with the view of the Anio Novus Aqueduct. Not to be missed to rediscover the ancient water route amongst nature and archaeology.