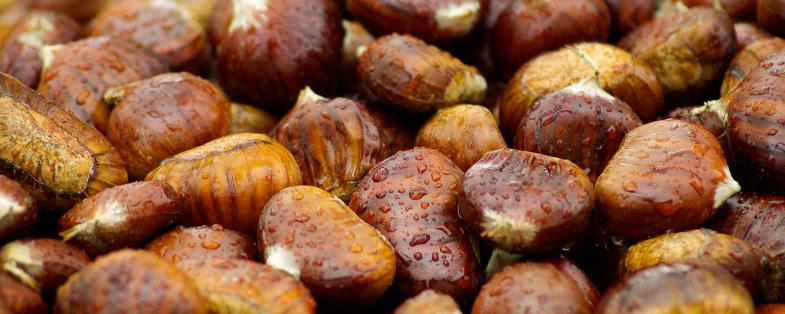 Ingredients
1 kg. of chestnuts
600 g. of sugar
1 vanilla stick
Rhum
The chestnuts of Montefeltro is a very fine variety, included in the National List of Traditional Products. Its fame derives from a limited production that maintains the authentic flavors of tradition, dating back even to the medieval period. Today as then, this product represents one of the few certainties even in periods of bad harvests.
In addition to boiled in water (ballotte) and cooked under ashes (roasted chestnuts), chestnuts are used in the first and second courses and in jams. Just these last ones are a true delight for the palate. At breakfast, spread on a slice of toast and accompanied with a good coffee, start the day on the right foot.
PREPARATION
Peel the chestnuts and cook for 20 minutes and pass them to the vegetable mill.
Prepare a syrup by dissolving the sugar in a pot, adding a glass of water. When it will make a thread of 3-4 centimeters from the spoon it will be ready.
Add the syrup to the chestnut purée by adding the vanilla stick and cook for 30 minutes, stirring constantly.
Remove from the heat, remove the vanilla and, if you wish, add a small glass of rum. Hot pot.
See also
In the magnificent territory of Montefeltro, on the border between Marche and Romagna, there is a small paradise of wellness.