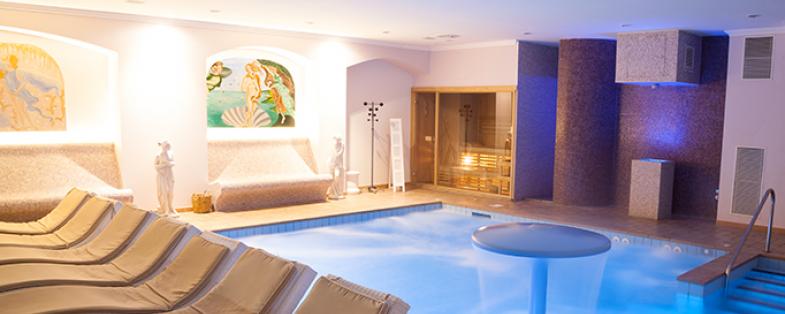 In the magnificent territory of Montefeltro, on the border between Marche and Romagna, there is a small paradise of wellness: the thermal baths of Monte Grimano. Immersed in unspoiled nature, you will find the physical and mental rest you were looking for. Thanks to the precious thermal waters, natural cures and qualified staff, you can finally forget about the chaos of everyday life and relax in this oasis of peace.
HISTORY
The thermal baths of Monte Grimano were already known to the Ancient Romans. But the first written testimonies of the beneficial properties of its waters date back to the sixteenth century, when the chemist Andrea Bacci wrote "De Thermis". Over the years, other research has been carried out on these spas, including "De Balneis" by the medical scientist Bianchelli or the most recent treatise on mineral waters in Italy by Professors Vinci and Finali from 1923. These studies have decreed the thermal waters of Monte Grimano to rank among the best salt-iodic waters known. 
THERMAL WATER
The thermal water from Monte Grimano comes in three types: alkaline, salso-bromo-iodic and sulphurous. Being alkaline, due to its high content of bicarbonate, it is useful for mineral water and inhalation cures, in renal and hepatic calculosis and in chronic inflammatory forms of the digestive tract. It is also a salso-bromo-iodic water rich in sodium chloride, lithium, bromine, iodine, magnesium and other elements. It is therefore particularly effective for balneotherapy and the treatment of inflammations. It is also sulphurous, as sulphur is the prevailing element in addition to calcium and iron. As such is used for treatments for the respiratory tract, dermatosis and rhinogenous deafness.
A MODERN STRUCTURE FOR YOUR WELLNESS
The Monte Grimano spa has three different pools. The internal one has water at a constant temperature of 36°C, which is optimal for toning the muscles, stimulating circulation and above all for relaxing.
The second pool is at 34° C and is flanked by two smaller ones, one at 32° C and the other at 25° C. These make up the vascular circuit that tones the circulatory system.
Finally, the third is located outside, immersed in the greenery of the adjacent park, on a terrace with a splendid view of the Conca valley.
The structure is equipped with the latest technology, and thanks to its highly trained staff it will guarantee you a well-rounded wellness experience. Here you can enjoy numerous treatments to meet all your needs including: water treatment, inhalation treatments, mud therapy, balneotherapy, massage-physio-kinesio-therapy and pain therapies. There is also a dietician department to reconcile physical well-being and the pleasure of dining, and health and diagnostic services are available to give a professional opinion.
Let yourself be pampered by the sensations given off by the thermal water in the unique setting of the hills of Montefeltro and enjoy an unforgettable holiday.