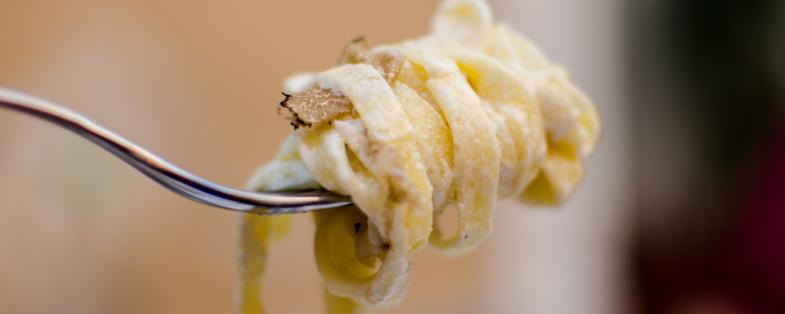 Ingredients
(for 3 people)
1 summer black truffle of 15 gr
250 gr of egg noodles
75 grams of butter
salt
grated Parmesan cheese
Tagliatelle with black truffles are a quick, tasty dish, enhanced by the famous Montefeltro truffle. In these lands it is the protagonist of the tables. The climate and the favorable soil generate many varieties of truffles, among the most famous and valuable in Italy. It is no coincidence that here, in Monte Grimano Terme, the Black Truffle Festival takes place in July, a party for this much loved and appreciated product.
Discover how to perfectly cook a dish that will leave your most skeptical friend speechless.
PREPARATION
Gently clean the truffle with a medium-bristle brush moistened to remove any residual earth.
Cook the tagliatelle in abundant salted water and in the meantime slice the thin lamella truffle.
Before draining the pasta, melt the butter in a large pan and add the crumbs of the cut truffle.
Drain the tagliatelle al dente and sauté in a pan with the butter and the crumbled truffle.
Place the tagliatelle in the plates and garnish with the whole lamellae. To taste, sprinkle with grated Parmesan.
See also
In the magnificent territory of Montefeltro, on the border between Marche and Romagna, there is a small paradise of wellness.