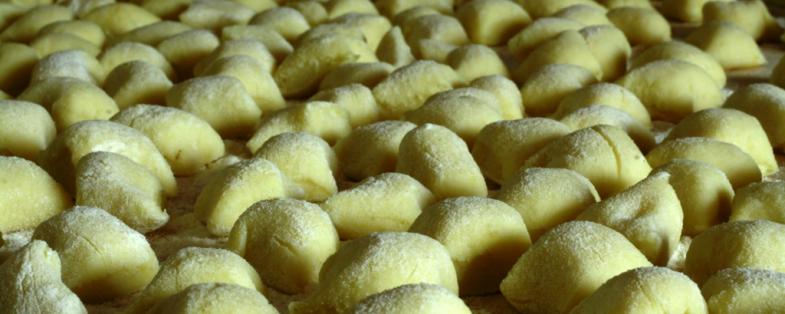 Ingredients
(4 servings)
400 gr flour '00'
300 cc vallecamonica milk
300 gr Spinaci o 'perùc' (herbs found in the summer huts in early May)
2 medium-sized potatoes
2 whole eggs
2 stale white bread
1 small julienne onion
100 gr grated dop silter
100 gr grated cheese
150 grams of malga butter, sage salt and nutmeg
Coarse salt
The essence of local products, love for their land and ancient traditions, have given life to a truly unique dish: the Gnocc de la cua. Made with the tip of the spoon, on the plate they appear to have some strands due to the presence of spinach. Here is the name of this particular recipe ready to delight your palate.
PREPARATION
Take some stale bread and put it to soften in the milk
Then add the spinach or wild herbs boiled in salted water and coarsely chopped. Leave it to rest for a couple of hours
Add the eggs and salt to the bread and milk. Afterwards add a sprinkle of nutmeg and flour. Mix everything until a batter is obtained
With the tip of a spoon, roll the dough into small pieces and drop them into the boiling water with the potatoes cut into cubes already in the pan
Once ready, drain them with a ladle and place them in a bowl. Then add the silter and case di viso cheeses
Finally prepare the butter, with sage and salt, and the finely chopped onion. Leave to brown and pour over the gnocchi
A really tasty recipe rich in local products. Leave your friends speechless with a dish to be discovered and suitable for all tastes: 100% vegetarian. Enjoy!
See also
The Baths of Boario are the ideal place to indulge in a regenerating holiday, for body and spirit. A health-oriented place for the entire body with over 150 years of experience in the field and in the care of you.