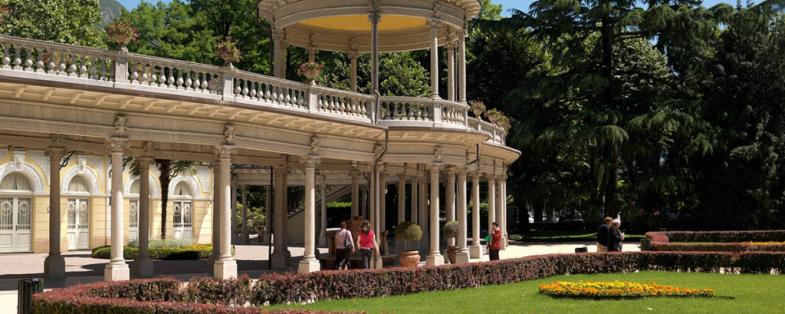 The Baths of Boario are the ideal place to indulge in a regenerating holiday, for body and spirit. The spas and their traditional culture of well-being convey a new way of being and living, far from daily tensions and the chaos of modern life. A health-oriented place for the entire body with over 150 years of experience in the field and in the care of you.
You can also take a quiet walk in the Thermal Park, a quiet and unspoiled place.
HISTORY
The healing properties of Boario's thermal waters were already known in the mid-seventeenth century, but it was only in 1840 that they came to fame thanks to an action that today we would call synergy and marketing. In fact, with the support of a strong advertising campaign and the development of the local railway, at the end of the nineteenth century, groups of tourists visited the spa resort full of elegant gardens and bars. They enjoyed the healing properties of the waters, which reach the baths from the rocks of Monte Altissimo, purified and rich in minerals, after a 15-year "journey". These waters of the sulphate - bicarbonate - calcium - magnesium type are cold (13-15 ° C), they are purified and enriched by the precious mineral elements with which they come into contact, which thus determine the set of therapeutic properties.
The four springs, Fausata, Igea, Antica Fonte and Silia, have different characteristics and are beneficial in treating diseases of the gastrointestinal tract. Famous the motto "Boario water, hundred year liver".
OBJECTIVE: YOUR WELLNESS
The treatments of the Boario thermal spa are aimed at everyone, adults and children. The paediatric section is dedicated to the latter: a space where children can enjoy all the benefits of thermal water while having fun.
Moreover the precious thermal waters are used for numerous treatments and therapies:
Mineral water treatments
Inhalation therapies
Mud Balneotherapy
Physiotherapy
Massage therapy
Vascular programme
A trained and professional staff will follow you on your course towards complete well-being in every aspect.
Terme di Boario, thanks to the modern SPA, the avant-garde medical centre and the centuries-old park, is among the leaders in the field of thermal tourism. It offers various facilities for your care and your health, in a philosophy that allows you to feel at the centre of a world conceived and customised to satisfy your desires of well-being and relaxation.
 
Video