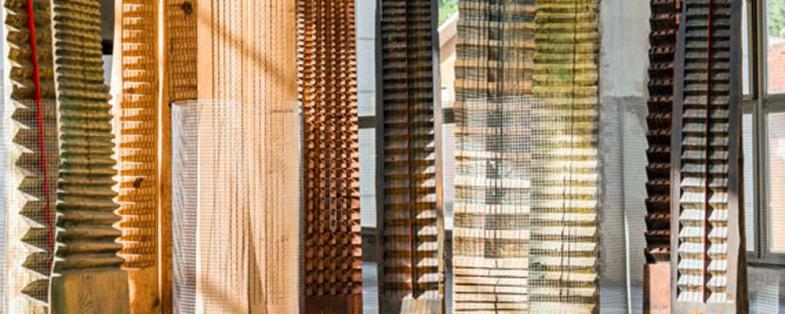 "I believe that in the work of an artist  it is fundamental to know how to look at things, objects and tools of everyday life in a new way. I think it's his job to bring about crisis' in the categories that give us only superficial certainties." World famous contemporary artist, Franca Ghitti (1932-2012), has left on our land and throughout the Valle Camonica important works in iron, wood and stone, which bear witness to the close relationship with his roots.
THE BOND WITH HIS LAND
Born in Erbanno in 1932, Ghitti began working as a sculptor in the early sixties. Le Vicine, Rogazioni and Litanie are his first works in wood, in which the artist draws from the peasant culture, from his roots and therefore from his beloved land. His vision began to get broader in the seventies. He switched to the use of iron, trying new combinations with scraps and cuttings from the industrial world. In his continuous experimentation he refined his style and increased his artistic level. The model of poverty merges with the peasant aesthetic, generating works never seen before. A clear example is the Spirals. The sculptor builds and shapes his work by combining pieces of old tools to compose a mandala, symbol of the cosmos. The sculpture is a clear reference to the ancient Camunian labyrinths.
A UNIQUE LANGUAGE
Ghitti, during her search for  simple, pure and minimalist art, reused materials and objects that had already had a history in the community. She used worn out wood, objects she found, wood and iron scraps, but also cut-offs from the most modern metal industries. Her art was thus elevated to memory of lives, objects that brought with them an existence, creating an aura of unique charm.
What Ghitti was seeking with her sculpture was by gathering places together. Not only the re-use of materials that brought a tale with them, but organising them in a specific space and with a specific historical perception. To instil a mythical spirit that would lead observers to look again at and rethink public truths and community values.
The works of Franca Ghitti are not to be missed for those passing through these areas. The greatest contemporary artist from Camuna has always remained linked to her native land, but she was also involved in dialogue with different cultures, times and societies, immersed in the modern world. The sculptor will always remain one of the symbols of Valle Camonica because she was able to recall the values, logic and efforts of this community, making it famous all over the world.
See also
The Baths of Boario are the ideal place to indulge in a regenerating holiday, for body and spirit. A health-oriented place for the entire body with over 150 years of experience in the field and in the care of you.