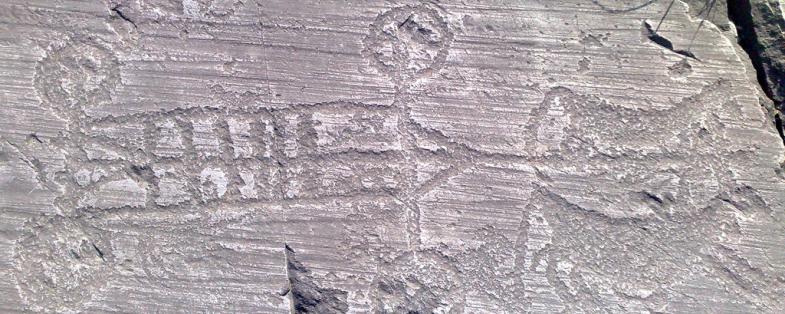 Introduced as the first Italian site in the UNESCO World Heritage list, Valle Camonica is famous all over the world for the extraordinary richness and variety of rock carvings. On its territory many populations have left record of their passage giving life to a magical and rare place in which you can experience the history of over ten thousand years. It was actually the Camuni, the first inhabitants of the valley, who left the first and most important signs that date back to prehistoric times. 
To date, the parks where you can admire the rock carvings are scattered throughout the valley and there are actually two near Darfo Boario Terme.
MUNICIPAL PARK OF LUINE
Set in a natural setting of great beauty, the Municipal Park of Luine represents one of the most extraordinary series of rocky terrains in the world, about 120, covering a vast period of time, from the Upper Paleolithic up to the end of the Iron Age. The coexistence in the same place of human settlements and rock engraving activity makes Luine a site of enormous archaeological interest.
At the Monticolo, the "CorniFreschi" area is characterised by the large sandstone boulder called "Roccia delle Alabarde", engraved with 9 halberds and 15 daggers that form a unitary composition of great stylistic elegance, surprisingly close to current aesthetic tastes. On the hill above, are depictions with a religious background, probably related to the remains of an ancient church dedicated to St. Stephen, and signs of the contemporary age, which celebrate the construction of the railway and the military presence during the second world war.
ARCHEOPARK
Not far away, there is the reconstruction of a prehistoric village at the Archeopark: a theme park that allows you to re-live history to discover the ancient Camuni and the Padan and Alpine people over the course of 15,000 years. In an area of 10,000 square metres surrounded by the Alps and nature, the park was the first Italian museum to offer a similar experience. We have all dreamed of being able to travel back  in time and thanks to the Archeopark we can experience the same sensations. Explore a cave with rock carvings, stop in the huts of the big pile-dwelling village and visit a Neolithic farm: all this is possible inside the park.
Take a dive  into the past by discovering the history of humanity in the Luine Municipal Park and experience what it was like to live in the Paleolithic period in the Archeopark. Experience a magical day and experience the feeling of travelling through time!
Video
See also
The Baths of Boario are the ideal place to indulge in a regenerating holiday, for body and spirit. A health-oriented place for the entire body with over 150 years of experience in the field and in the care of you.