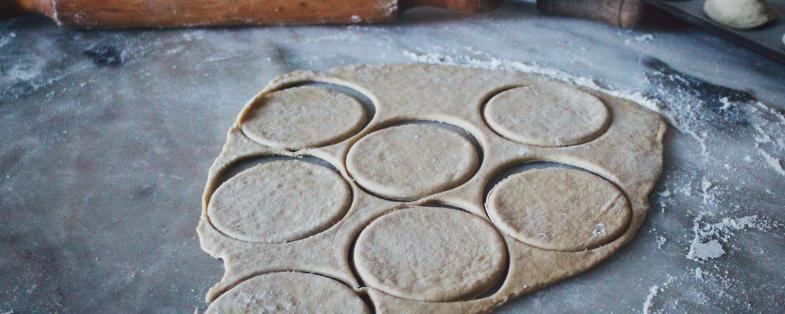 Ingredients
Short pastry:
2 eggs
1 hg ½ of butter
1 hg ½ of sugar
1hg ½ of ground almonds
3 hg of flour
Custard:
2 egg yolks
2 tablespoons of sugar
Vanillin
Lemon peel
2 tablespoons of flour
½ liter of milk
The Rapolano focaccia is the typical dessert of the area and consists of two thin layers of almond pastry that coated by another layer of cream, all dusted with plenty of icing sugar. 
In recent years, during the event called "Settembre Rapolanese" there is a gastronomic competition that rewards the best Rapolano focaccia. The initiative aims to involve all citizens to enhance this local delicacy in the process already undertaken by the Municipal Administration, aimed at making Rapolano focaccia a Slow Food presidium.
Preparation:
Combine eggs, sugar and butter in a pot. As soon as the ingredients are mixed add the chopped almonds. Finally, add the flour a little at a time until it forms a rather soft dough.
Take two metal containers of the same size and in each one spread half of the dough. Cook for about 20 minutes in a pre-heated oven at 180 ° C.
While waiting for the pastry to cook, prepare the custard: in a medium-sized saucepan, add egg yolks, sugar, flour, lemon zest, vanilla and milk and cook until the cream starts to boil and thickens.
Once the two discs have cooled add the custard on one of the two and cover everything with the rest. Before serving, sprinkle the focaccia with icing sugar.
And if you want to treat your palate, a glass of vin santo wine will finish off this delicious dessert.
 
See also
Let yourself be lulled by the thermal waters of the Antica Querciola Spa and let yourself go in the care of an expert staff who will restore your harmony and vitality.

Miraculous? Almost. The Terme di San Giovanni will cure you, relax and pamper you in the magical landscapes of Tuscany.