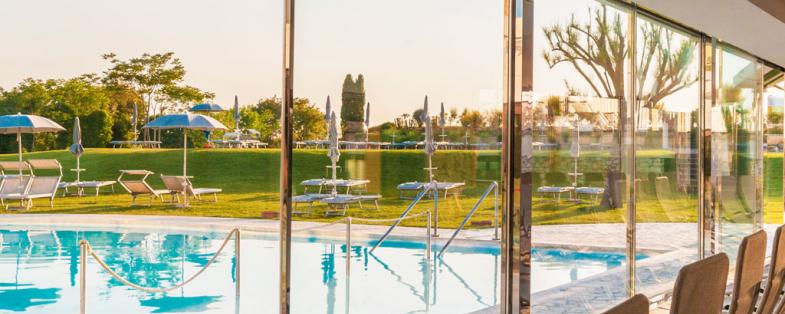 About 2 Km from Rapolano Terme are the Terme di San Giovanni. The centre, already known during the 4th - 5th century BC, experienced its maximum splendour in the 19th century. Today, permanently settled in a modern structure, the Terme di San Giovanni are immersed in the magical setting of a park full of ancient trees.
THE FAMOUS THERAPEUTIC WATERS
Miraculous? Almost. Yes, the thermal waters of the Terme di San Giovanni have immediate therapeutic properties as officially recognised by the Ministry of Health. They are really a panacea especially for the respiratory and muscular systems with effects that are quickly noticeable.
For complete relaxation I recommend a soothing bath in the numerous pools where the water gushes out naturally at 39° C. Wellness and rest are guaranteed.
A DREAM LOCATION
The property has all the elegance and splendour typical of Tuscan villas. Its thermal swimming park consists of three outdoor pools (one reserved for hotel guests) and two indoor pools (one reserved for hotel guests), all with different temperatures. Enjoy the harmony and peace that only these waters will give you, surrounded by the dreamlike atmosphere of the Crete Senesi.
To prolong these fantastic sensations, the establishment offers a hotel with 58 rooms with every comfort, a restaurant, a coffee relax and a beautiful park. The icing? The possibility to book a gazebo on a small hill separate from the spa and enjoy an unforgettable day in complete tranquillity.
Video