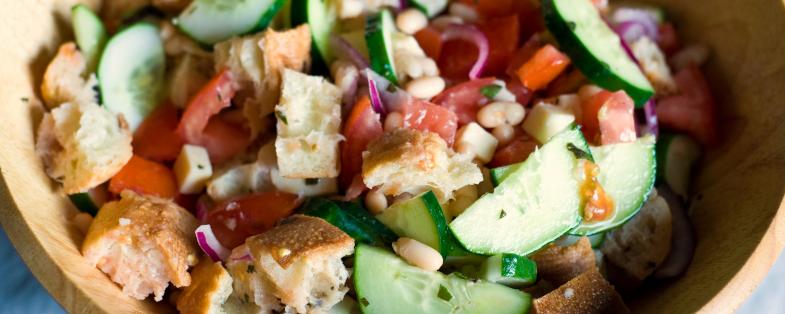 Ingredients
taralli with extra virgin olive oil with fennel
ripe tomatoes
extra virgin olive oil
vinegar
origan
salt
Panzanella is a fresh dish, very appreciated especially in summer. Very good, easy to do and versatile. Very similar to the recipe of the "classical" Roman or Tuscan panzanella, from which it differs for its pleasant crunchiness.
Its origins date back to the '50s and' 60s, when the taralli with extra virgin olive oil and fennel were made at home, and baked with bread and tomato pizza, in domestic wood ovens. The taralli used, compared to the current fragrances that are purchased in all telesini ovens, were much larger.
The trick in preparing this recipe lies in just wetting the taralli, to maintain their crunchiness and at the same time allow them to absorb the aromas of the other ingredients that are added. The ripe tomato was rubbed on the taralli, as is done on fresella.
A very particular variant, is to wet the taralli with sulphurous water, which is probably linked to the image of seeing walks in the tree-lined avenues of the Baths especially the "bathers" to do the tarallo in the paper cup of the sulphurous water.
Preparation:
Break the taralli, sprinkle them lightly with water and place them in a salad bowl.
Add the ripe tomatoes cut into pieces and season with salt, extra virgin olive oil and a sprinkling of vinegar. Finally add the oregano.
Options:
It can become a single dish by adding anchovies cut into small pieces, according to tradition, or tuna in oil.
You can add your choice of onion, celery, olives or cucumber. The tomato "insalataro" can be replaced by cherry or datterino tomatoes. White vinegar can be replaced by balsamic vinegar.
See also
Be pampered by the Baths of Telese, among the most renowned in the whole of Campania. You will find spaces of care and well-being for all your needs.