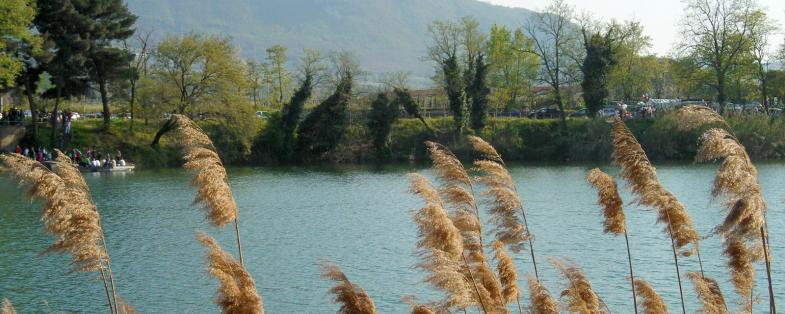 Telese's main natural site of is undoubtedly its lake. Tall, majestic trees embellish and shade its banks, outlining its kilometre-long perimeter. Surrounded by large agricultural areas, it has a dirt road and a footpath. It is a welcoming and silent place, but at the same time it is not isolated. Easily accessible from the major urban centres in the valley, it is ideal for a walk, physical activity, sport fishing and birdwatching. There are numerous visitors who go there, as they are also able to take advantage of various accommodation facilities (bar, restaurant, hotel and swimming pool) that overlook it. 
The lake is located in the centre of the Telesina Valley, between the Municipalities of Telese Terme and Solopaca. It has spans about 49,000 square metres and has a depth ranging between 20 and 30 m.  
From the naturalistic point of view it is of fundamental importance, as it is a place of migration for numerous species of birds that inhabit its waters such as the goose (Anser Anser), the gadwall (Anas strepera), the teal (Anas crecca), the mallard (Anas plathyrhynchos) and, rarely, the white heron (Ardea alba). Also important is its fish, consisting mainly of carp (Cyprinus carpio) and largemouth bass (Mycropterus salmoides), which make this lake one of the most important sport fishing sites in the area. The natural environment, on the other hand, also consists of the typical riparian flora, with species such as bulrush (Typha latifolia), white willow (Salix alba) and field elm (Ulmus minor).
Its position and its steep slopes carved in travertine suggest a karst origin probably due to a "collapse sinkhole", dug by the intricate system of underground water that characterises the Telesina Valley ("pure water" from Monte Pugliano and the "lakes" of Solopaca). This may have eroded the rocky subsoil from the bottom upwards, creating a cavity covered by a thin "vault". According to historical sources, the latter collapsed during the catastrophic earthquake of September 1349, thus giving rise to the lake of Telese, filled by groundwater. 
 
See also
Be pampered by the Baths of Telese, among the most renowned in the whole of Campania. You will find spaces of care and well-being for all your needs.