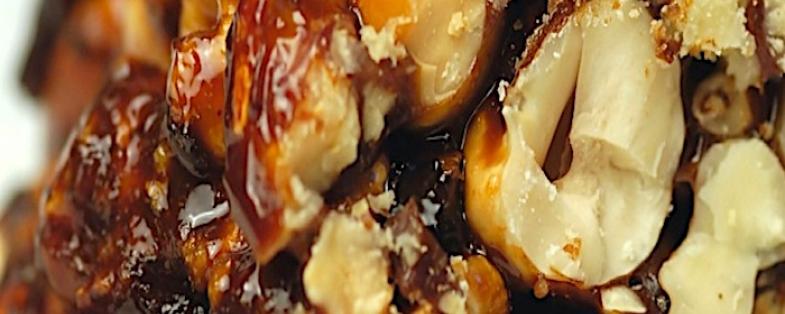 Ingredients
(4 servings)
500 g of sultanas (or zibibbo)
½ nutmeg
200 g of shelled walnuts
150 g of shelled hazelnuts
150 g of shelled almonds
500 g of honey
Flour
250 g. of mixed candies
500 g of grated and chopped dark chocolate
100 g. of bitter cocoa
Zest of an orange
Typical dessert of the Tiburtina tradition linked to the Christmas period, Pangiallo is prepared on the day of the winter solstice, as a wish for the return of long sunny days. The origins actually date back to the gastronome and cook of ancient imperial Rome, Marco Gavio Apicio. Lived between the first century BC and the first century AD, in his collection of cuisine recorded the recipe for a cake very similar to the current Pangiallo.  
PREPARATION
Melt honey in a bain-marie 
Once the honey has melted, knead all the ingredients using the flour to make a soft and homogeneous mixture
Shape into small round loaves of about 30 cm, 15 cm high 
Put the loaves on a baking sheet covered with baking paper and let the mixture solidify and compact
The following morning, put the tray in the oven at a temperature of 160/180
Cooking time about 15 minutes (depends on the size and thickness of the loaves)
See also
Tivoli's thermal baths offer a cure for body and soul, by dipping into the glorious past of the Roman civilisation.