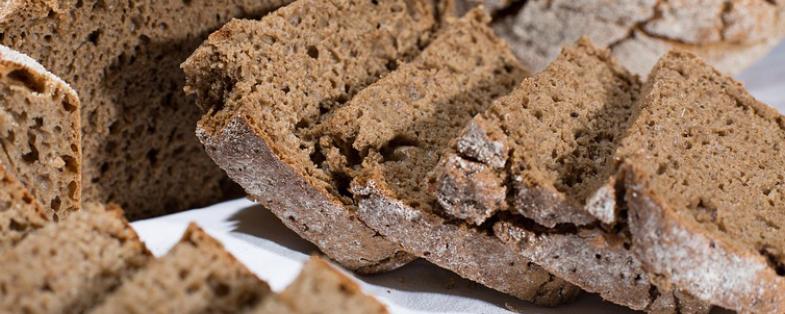 Ingredients
(2 servings)
150 gr of wholemeal emmer flour

150 gr of wholemeal rye flour

500 g of sourdough

300 gr of old pasta (100 gr strong flour 0 type manitoba, 100 gr soft flour 00, 100 ml water, 4 gr brewer's yeast)

180 ml of water

100 gr of shelled walnuts

250 gr of dried figs

50 g of raisins

15 grams of salt

1 tablespoon of brown sugar

a knob of butter
Crescenzin is a variant of Coimo's black bread in Val Vighezzo. In the past it was prepared only twice a year and usually during Christmas as a gift brought by Jesus. Today the famous rye loaf is cooked and is one of the most sought after products in Ossola, so much so that it has obtained the DOP mark, granted only to foods whose characteristics depend on the territory.
A speciality with a rich taste and tradition that with the addition of sugar, nuts, figs and raisins becomes the sweet Crescenzin. A treat for the taste buds!
PREPARATION
10-12 hours before preparing the final dough, knead the two wholemeal flours with water (at about 50°), in which you have dissolved the salt and sugar. Keep covered at room temperature.
Still about 10 hours before, prepare the old dough by kneading 100 gr of strong flour, 100 gr of weak flour, 100 ml of warm water and 4 gr of brewer's yeast.
To obtain the required quantity of mature sourdough, it needs to be refreshed 3 times (the last one carried out about 10 hours before the final dough with half strong flour and half whole rye flour). For refreshing, we use a quantity of flour equal to the weight of the sourdough to be refreshed plus half by weight of water at 40°. You switch from one refreshing to the next when the dough has tripled in volume.
Before the final dough, prepare the dried fruit: cut the figs and the walnut kernels into small pieces and mix them together with the raisins and the melted butter on the stove.
Finally knead the old dough, the sourdough, the wholemeal flour previously prepared and the dried fruit for 10 minutes in the kneader. Let the dough rest for about 1 h, knock it back and form two loaves: let it rise for 2 hours at 30° in a humid environment (e.g. in a 30° oven with a saucepan with just warm water on the bottom).
See also
A corner of paradise among the beautiful valleys of Piedmont where you can relax, indulge in a well-deserved rest and think about your well-being.

The discovery of the source is shrouded in mystery, but it is known that since the sixteenth century the famous thermal waters were exploited for their beneficial qualities.

The ideal opportunity to unwind from the daily stresses and indulge in a well-deserved rest among the natural beauty and the benefits of spa water.