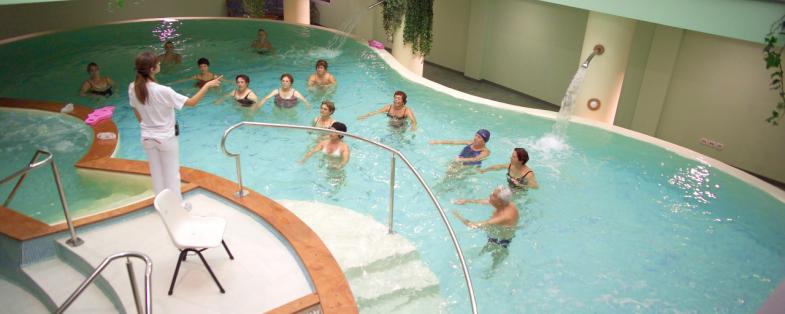 In Petriano, in the heart of the Montefeltro and close to Urbino, there is a modern and complete spa complex that is ideal if you are looking for a holiday of wellness and relaxation: the Terme di Raffaello. The name is not random, as in fact the painter Raffaello was regenerated in these waters, as well as the Knights and the Ladies of the Renaissance Court.
You will be immersed in a fascinating natural environment among the hills of Montefeltro, with a perfect combination of wellness, art and nature.
THE HISTORY BETWEEN GREAT PAINTERS AND LADIES OF COURT
"My dear uncle, I have not been in perfect health for some time and I would like to go back home to drink some miraculous water from our valley..." Thus the great painter Raphael wrote in a letter sent to one of his tutors. Testimony of the healing properties of this water, the Terme di Raffaello have been a place of recuperation since the times of the Ducal Court of Urbino. However, it was only in 1800 that Professor Angelo Agrestini studied its healing properties and the "Agrestiniana" was taken from him.
THE PROPERTIES OF THE "LA VALLE" SOURCE
In the historic establishment in Petriano, the mineral water called "La Valle" flows at a temperature of 14°C. It is of a sulphurous-sulphate-bicarbonate-alkaline-earthy type and is rich in mineral salts in the form of sulphate and bicarbonate. These properties are essential for the proper functioning of our bodies. It is water with unique characteristics that thanks to the high quantity of hydrogen sulphide and
the associated presence of sulphates, calcium and magnesium, allows the treatment of problems of the locomotor, vascular, respiratory and ear systems.
AN OASIS OF WELL-BEING
For those who want to take care of themselves and let themselves be pampered, the Terme di Raffaello have created the Oasis Spa, a beauty spa centre. The experienced and well-trained staff will be able to interpret your needs and create a tailor-made programme for you.
Here you will find a thermal pool with whirlpools, vascular routes at different temperatures to promote circulation and areas to keep fit, such as a gym, counter-current swimming and fitness courses in the pool. Follow the path to your complete well-being.
The Petriano spa is only 10 kilometres away from Urbino, the ideal Renaissance city. A architectural gem and guardian of a world-famous artistic heritage, it is the perfect ingredient to complete a perfect holiday.
Downloads