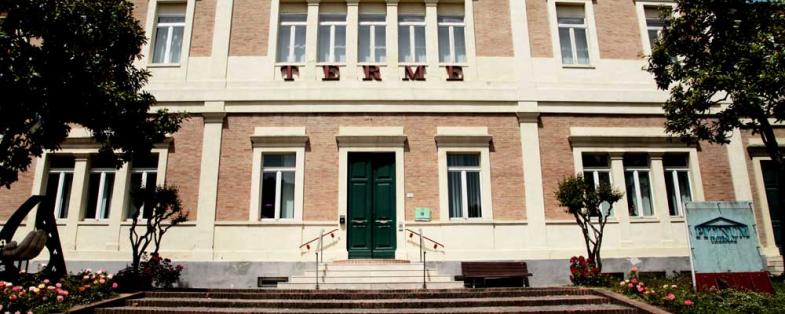 The Terme di Macerata Feltria thermal baths are the ideal place to combine wellness and relaxation in the splendid setting of Montefeltro. The thermal centre of Pitinum Thermae is in fact close to places known all over the world, such as Urbino, San Leo and San Marino. Vast panoramas, lakes, woods, mountains, hills, castles, churches, fortresses, towers, convents and chapels will accompany your holiday, for complete well-being.
THE THERMAL SPA
The Macerata Feltria thermal baths are young. Built in 1993, the spa has state-of-the-art equipment to guarantee the most modern treatments. In addition, highly qualified staff and an outpatient clinic are always at your disposal to satisfy all your needs.
The thermal establishment of Pitinum Thermae takes full advantage of the properties of the sulphurous water from the Certalto spring. Thanks to innovative techniques it is possible to practice all types of sulphur treatments: inhalations, mud therapy, hydroponics and dermatology, for rhinogenous deafness and vascular diseases, as well as peripheral, gynaecological and rehabilitative care.
THERMAL WATER
The water from the Certalto spring is classified as Sulphurous - Sulphate - Bicarbonate - Calcium - Magnesia and is rich in mineral salts. The balancing of its composition enhances its therapeutic effects, making it particularly suitable for sensitive subjects such as children and the elderly.
The high content of sulphur enriches it with anti-catarrhal, anti-inflammatory, immunostimulant, antioxidant and decongestant properties, while the presence of magnesium plays an important role in the rebalancing of intestinal functions and reduces excess sugars in the blood. Finally, the presence of trace elements (sulphates, bicarbonate, bromine, magnesium, calcium) leads to an enhancement of the beneficial effect.
Thanks to its properties, the thermal water of Pitinum Thermae alleviates pain or discomfort caused by certain diseases, and you can see a psychological improvement of the person in terms of well-being of both body and mind.
In the spa there is also a beauty centre with professional staff for complete relaxation. This is the final touch to complete a perfect holiday, immersed in the hills of Montefeltro.
Downloads