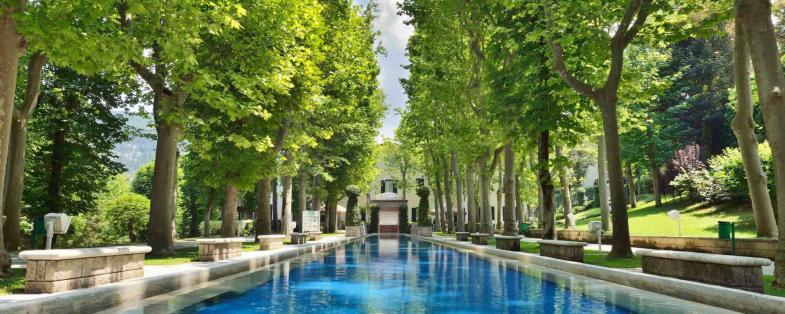 In Caramanico Terme nature, history and health come together, giving life to a unique spa, in the heart of the Majella National Park. The precious thermal waters are a heritage for the country that has been exploiting them for over four centuries, improving year on year a centre already blessed by luck, location and climate. Here you will find an exclusive establishment ready to welcome you and satisfy all your needs. Let yourself be pampered.
HEALTH SINCE 1576
The origins date back to ancient times, in 1576, when Father Serafino Razzi wrote in his diary about the benefits of the "Zolfanina" spring. However, the real activity of the spa dates back to a few centuries later, in 1836, when a rudimentary structure was built.
Over the years, the news about the benefits of the sulphur water of Caramanico Terme spread and the centre became in a short time famous and sought after. So it was soon realised that the old structure was no longer suitable to meet demand. A better equipped establishment that was more able to make the most of all the properties of the thermal water was built.
The premises we know today was inaugurated in 1901 and has since undergone three extensions. Spread over 5500 square metres, it includes several facilities inside, all with a specific purpose: health centre, inhalation treatments, mud-balneotherapy, respiratory rehabilitation, massage therapy, hydropinic care and thermal aesthetics.
A REALLY UNIQUE SPA CENTRE
All treatments and therapies within the spa are possible thanks to the uniqueness of this place. In fact, as in no other part of Italy, there are two different types of water here. The first is of a sulphurous high-grade sulphur mineral type called "La Salute". It allows treatment, rehabilitation and prevention due to its anti-inflammatory and eutrophic properties on the respiratory system, osteoarticular system, digestive system, middle ear and skin.
On the other hand, the other water called "Pisciarello" is of oligomineral type with diuretic effect, that is, it involves the increase of urinary elimination of the solutes.
In addition to the wellness program offered by the spa, in Caramanico Terme you will not be bored. Located in the Majella Park, the outdoor activities of hiking, mountain biking, horseback riding, tennis and the pool at your disposal, will guarantee you a dream vacation.