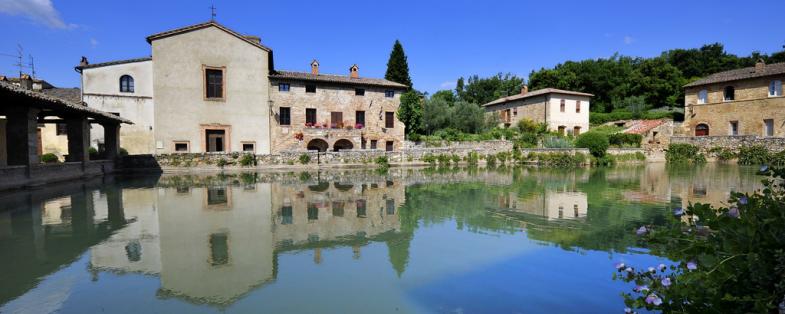 Bagno Vignoni is a spa four kilometres south of San Quirico and is known worldwide for its «water square», Piazza delle Sorgenti. In the Middle Ages and in the Renaissance period the Etruscan settlement of Bagno Vignoni has already enjoyed great fame for the beneficial properties of its waters and for the visits of prominent  figures such as S. Caterina and Lorenzo dei Medici.
Numerous travellers found refreshment in the warm waters of Bagno Vignoni  as they travelled along the Via Francigena, which has passed through here since the 10th century. Also Popes and emperors stopped there, starting with Frederick I of Swabia, known as Barbarossa, whose passage is remembered in June with flags and archery contests.
PARCO DEI MULINI
From Bagno Vignoni, the Roman baths and the Parco dei Mulini overlook the Val d'Orcia landscape. The latter is a system consisting of four mills in which the grain of the Val d'Orcia was ground. Through a system of gulleys and storage tanks, the wealth of thermal water was exploited with a dual purpose: for therapeutic reasons, especially for the care of bones and joints, and for energy, to move the heavy millstones.
AN OASIS OF PEACE
In a dominant position overlooking the valley, stands the medieval fortress of Vignoni, a real gateway to the landscape of the Val d'Orcia, with its Romanesque church of S. Biagio. Its splendid isolation makes it a true oasis of peace and tranquillity.
Bagno Vignoni has a great tradition of welcome and hospitality, with the presence of charming modern hotels and capable of ensuring pleasurable stays to its customers, all equipped with thermal baths and comfortable beauty farms.
There are many events during the year that brighten the holidays at Bagno Vignoni and San Quirico: from the craft beer festival, to the September exhibition of a book market, to summer concerts that see the presence of internationally renowned artists.