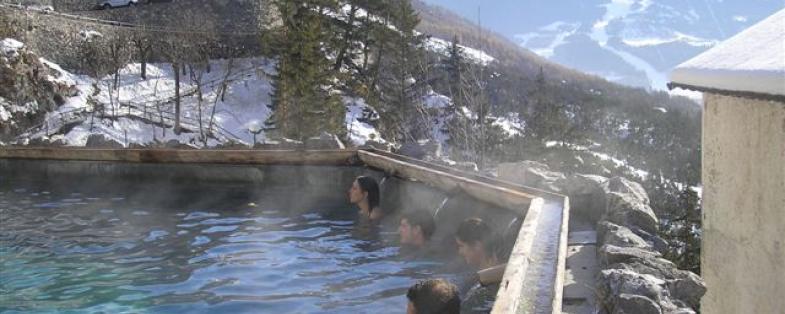 In Bormio, the differentiation between old and new baths is famous. Which one is the best? Both of them! Yes, because both of them have unique characteristics in the Italian spa scene. The culture of wellness dating back to the first century BC of the Bagni Vecchi and the largest thermal garden of the Alpi it's in Bagni Nuovi, they are two good reasons to try them both.
BAGNI NUOVI
Seven outdoor pools open all year, thirty different spa treatments and a sunny garden. In addition, a complete Spa with innovative massages and treatments to fully recharge your batteries and enjoy a well-deserved rest. All this at Bagni Nuovi di Bormio. A modern structure with you and your well-being at the centre.
A route divided into several zones will allow you to reach the peace of mind you have been seeking for a long time. In the Gardens of Venus there is the regenerating path, the Grotta di Nettuno offers the detoxifying path, the Bagni di Giove the aquatonic - revitalising one and the Bagni di Ercole the relaxing path.
Surrounded by the luxuriant nature of the Stelvio National Park, Bagni Nuovi will provide you with an unforgettable experience.
 
BAGNI VECCHI
On the other hand, if you are looking for a fusion between avant-garde, history and well-being, you must absolutely go to the Bagni Vecchi. A part of the structure, the Roman Baths, dates back to the first century BC where travellers used to refresh themselves while going up the old road to Stelvio, which still exists.
The route is divided into various stages for complete regeneration, thanks also to the particular alkaline and muscle relaxant composition of these waters.
A dive into the history of over two thousand years, from the Roman Baths to the ancient caves that lead to one of the millennial springs, up to the panoramic swimming pool overlooking the basin of Bormio.
All the benefits of the thermal water, a wide possibility for all your needs and the setting of a magical valley will let you experience a daydream. What are you waiting for?
See also
Switch off, recharge, sport, relaxation, culture. Whatever you want to call it, a holiday in Bormio has all these characteristics.

Niente di meglio che una tranquilla passeggiata per Bormio, alla scoperta della tradizione contadina e delle architetture locali.