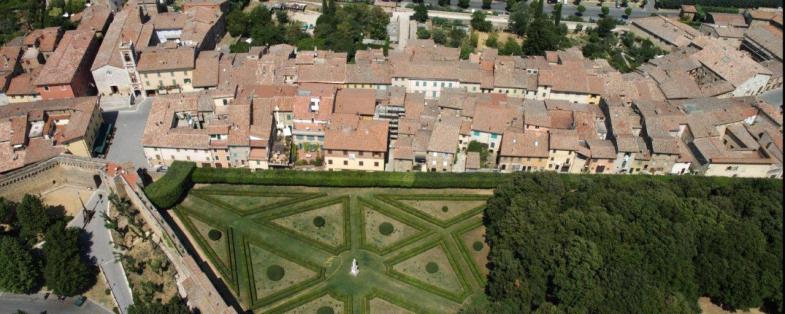 We start from the ancient centre, where there is the beautiful Romanesque Collegiate Church, with two portals, one from 1080, the other from the thirteenth century; inside is the triptych of Sano di Pietro. Next to the medieval Porta Nuova, the Horti Leonini, a sixteenth-century Italian garden.
Next to the collegiate church and in front of the ancient Palazzo Pretorio, near to which you can see two typical medieval "doors of the dead", stands the immense bulk of the building built in the second half of the century. XVII by Cardinal Flavio Chigi. Many artists of the time worked there, including Domenico Paradisi and Paolo Albertini.
Continuing to the main square, we find the church of San Francesco, commonly called the Church of the Madonna. The building, which has undergone many changes over the centuries, has some elements in Gothic style on the outside.
Not to be missed for their individuality are the Horti Leonini, built around 1580 by Diomede Leoni. The immense Italian garden, located between the castle walls and the main square of the town, opens up in a large perspective horizon that the perfectly geometric box-shaped flowerbeds contribute to enhance.
Following the avenue of the oaks, which runs along the wall along via Diomede Leoni, you reach the Rose Garden.
Another stop on our journey is the Church of Santa Maria Assunta, built on land donated in 1016 to the Abbey of San Salvatore. It is a magnificent Romanesque church with a single aisle, in which light filters just through the window slits designed in the travertine.
Opposite the church of S. Maria Assunta is the Ospedale della Scala. It was a branch of the S. Maria della Scala in Siena and was built as a refuge for pilgrims. In the loggia there are three slender columns and a well in the courtyard that bears the date of May 1543.
It is advisable to walk through the historical centre where the typical medieval architecture gives the village its suggestive atmosphere.
 
See also
A spa four kilometres south of San Quirico and is known worldwide for its «water square»

As if the Tuscan hinterland was not enough for your relaxation, in  Val di Chiana you will also find the spa of Montepulciano.