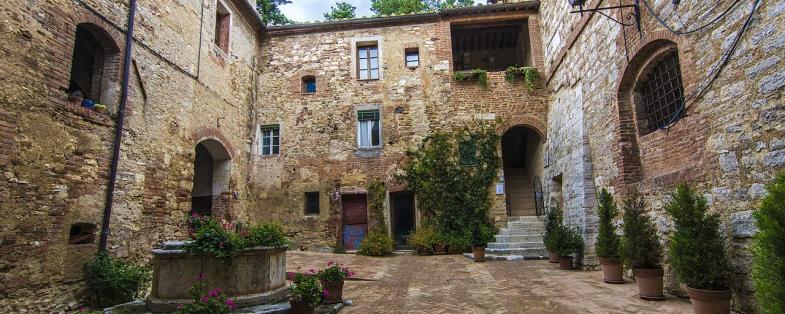 In addition to the two spas, Rapolano Terme has some beautiful natural and archaeological sights not to be missed.
REDISCOVER THE PAST IN CAMPO MURI
A short distance from the Terme di San Giovanni is the archaeological site of Campo Muri, with the remains of a settlement from the Etruscan and Roman periods. Here there is a votive hole called Buca delle Fate where the cult of thermal waters was celebrated, which were thought to have a sacred importance as well as being healthy and therapeutic.  The excavations have also brought to light a large thermal swimming pool, with a beautiful travertine slab floor. Also bronze figures were found, fragments of bracelets, coins cast in bronze and a small bronze ear pavilion that attests to the health function of Rapolano waters that were already being used for the treatment of ear conditions in ancient times. The complex can be dated to between the middle of the first century BC and the beginning of the 1st century AD.
THE MAGIC OF SERRE DI RAPOLANO
About five kilometres from Rapolano Terme is Serre di Rapolano, a hamlet of Rapolano, but an independent municipality until 1777. The village of Serre is nestled on a hill overlooking the valley and was used by the Sienese nobles as a fortified castle guarding the underlying agricultural land.
The two most important buildings are located in the highest part of the town, the Cassero, facing each other: the Castle and the Church of San Lorenzo.  The Church of Sant'Andreino, the oldest in the town, is a fine example of Romanesque style.
The Museo dell'Antica Grancia is located in the historic centre of the village of Serre di Rapolano. This is a very important historical and cultural heritage that represented the centre of local agricultural production capable of ensuring some of the food for the Sienese hospital.
Not far away is the village of Modanella with a medieval castle, now converted into a farm and accommodation for farm holidays, and the village of Santa Cecilia where Giuseppe Garibaldi stayed in August 1867 while "the spasms of the wound of Aspromonte were mitigated" thanks to the beneficial effects of the thermal waters.
See also
Let yourself be lulled by the thermal waters of the Antica Querciola Spa and let yourself go in the care of an expert staff who will restore your harmony and vitality.

Miraculous? Almost. The Terme di San Giovanni will cure you, relax and pamper you in the magical landscapes of Tuscany.