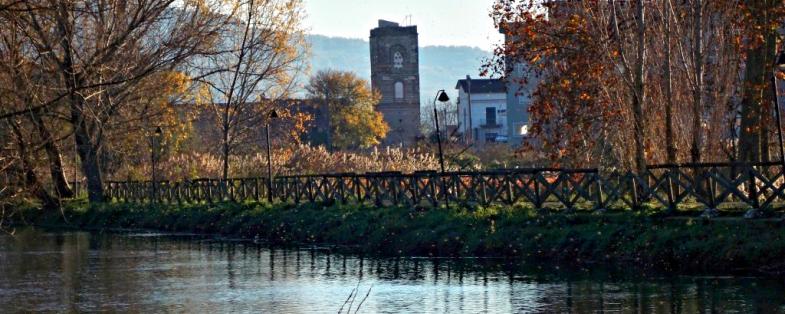 Telese Terme is a key stop in the "Via Francigena del Sud", the road that pilgrims traveled from Rome to reach the Holy Land in medieval times, crossing through lower Lazio, Campania and Puglia. Along the way there were not only pilgrims and devotees, but also and above all merchants, armies, politicians and people of culture. 
This sacred itinerary that traces the ancient Via Latina forms the mountain guiding the pilgrimage to the ports of Puglia.  Its Samnite stretch, from Faicchio to Benevento, crosses the municipalities of Faicchio, San Salvatore Telesino (Antica Telesia), Telese Terme, and the sub-valley areas of the Municipalities of Castelvenere, Guardia Sanframondi, San Lorenzo Maggiore and Ponte, before reaching the city of Benevento and the homeland of Padre Pio. 
The proposed route largely coincides with the cycle path, which runs from Faicchio to Benevento, continuing along the valley floor of the river Calore, and as much as possible it uses secondary roads without traffic that offer panoramic views and are safe to travel by bicycle. 
The route through the "telesina" region passes the archaeological area of "Telesia Vetere" and the walls of the ancient Roman Telesia. It stops at the Abbey of the Holy Saviour and through the springs of the Grassano Tourist Park, and the long cycle path follows the spectacular course of the River Grassano to reache the archaeological site of the Cathedral of the Holy Cross from the tenth century. Here, on a visit to the Archaeological Garden it is possible to see remains of columns of the Norman cathedral and the beautiful Bell Tower, which was partly built with materials reclaimed from ancient Telesia.
 
See also
Be pampered by the Baths of Telese, among the most renowned in the whole of Campania. You will find spaces of care and well-being for all your needs.