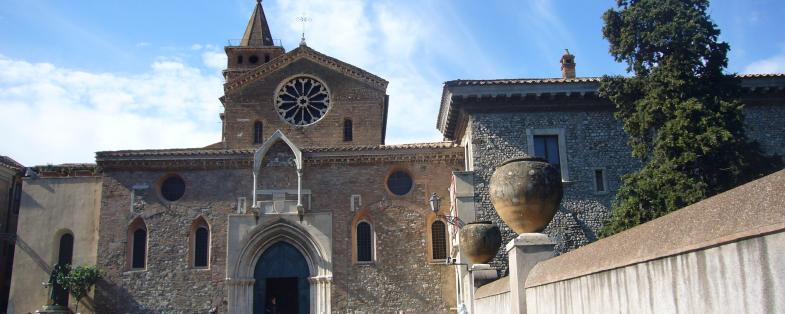 Tourists and beauty lovers have always been attracted by Tivoli, a town that makes you experience a fascinating journey through archaeology, history and natural landscapes. A place so rich in art could not be lacking an enviable religious heritage. Right in the historic centre of Tivoli we find several places of worship such as the Cathedral of San Lorenzo, the Church of San Silvestro and the Church of Santa Maria Maggiore. Unique structures, with an irresistible charm, with a glorious story to tell and with works of art and unmissable frescoes.
CATHEDRAL OF SAN LORENZO
The Cathedral of San Lorenzo, or Duomo of Tivoli, is the most representative religious building in the city. A legendary tradition links its foundation to the emperor Constantine and its construction took place over the ruins of the ancient Tiburtino Forum. Today we know however that it was built in the medieval period.
It is famous mainly for the majestic Romanesque bell tower 45 metres high from which it dominates the whole country, but its interior is not far behind. Three masterpieces can still be admired today: the wood-carved group of the Deposition, the Silver Custody of the fifteenth century and the Trittico del Salvatore depicting Christ, the Virgin and Saint John the Evangelist.
CHURCH OF SAN SILVESTRO
The Church of San Silvestro is one of the most loved places of worship by the inhabitants of Tivoli who often come to celebrate weddings and other occasions. After many modifications of its plan, today it has a single nave and a Romanesque style architecture.
Inside, two frescoes in the apse take centre stage and attract the eyes of visitors: one representing the "Christ who holds the scroll of the law in St. Peter", the other represents some scenes of the life of St. Sylvester.
CHURCH OF SANTA MARIA MAGGIORE
The Church of Santa Maria Maggiore is the second most important religious place in Tivoli, after the Duomo. As soon as you arrive you can not help but be enchanted by the enchanting façade characterised by an imposing door, by the overhanging rose window and by the bell tower that can be seen a little further behind.
Inside the works of art are many and all are worth seeing. We find the Tomb of Ippolito d'Este, the Polyptych of the Virgin, the table of St. Anthony of Padua, that of the Virgin Praying and the fresco of the Madonna with Child.
Tivoli will never cease to amaze us. Every corner, every street, provides an unforgettable glimpse that only this place can give. All this by walking comfortably through the streets of the historic centre. Better than this?
 
See also
Tivoli's thermal baths offer a cure for body and soul, by dipping into the glorious past of the Roman civilisation.